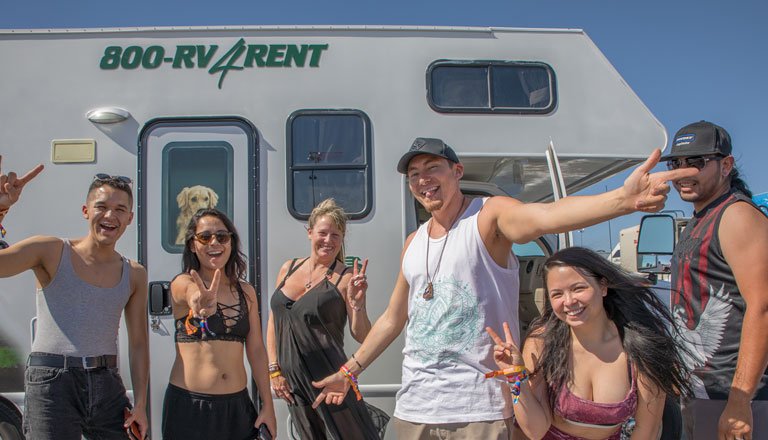 RV Camping
Camp EDC 2020
An elevated Camp EDC experience returns to Vegas! Campers can look forward to shorter wait times on arrival, a stronger power grid, more bathrooms, showers, improved site layout, wayfinding, new activities, and more.
RV Camping Features
Drive your own RV on-site! Camp EDC offers a power hookup, RV water refills, and pump-outs for an extra charge. RV groups will be limited to the vehicle's specified sleeping capacity, up to a maximum of 8 people per RV site. Find out about acceptable RV types and policies on our Camp EDC Guidelines page, and check out Camp EDC Entry for check-in information.
View Features

4 nights (Thurs–Mon)

Power options will be available. They must be ordered in advance at purchase checkout (see pricing below) and require a minimum 75-foot power cable with 30- or 50-amp connector. Please check our Camp EDC Entry & Hours page for specific details.
Water and pump-out package vouchers will be available for $80 purchase on-site at the Camp EDC General Store. Services will be available Friday–Sunday, 7am–7pm.These services will be sold together as a package and cannot be split between RVs.
An additional vehicle may be added at checkout (see pricing below). Parking for all additional vehicles will be located in a lot adjacent to the campground.
Access to porta-potties and free showers

Exclusive in/out privileges to and from the festival (during festival hours) via dedicated campers-only festival entrance
Grill/cook your own food, right at your campsite! Camp EDC welcomes small, portable propane grills/stoves (with small tanks, up to 4 lbs per group). Campfires and butane torches are NOT allowed.
Gallery