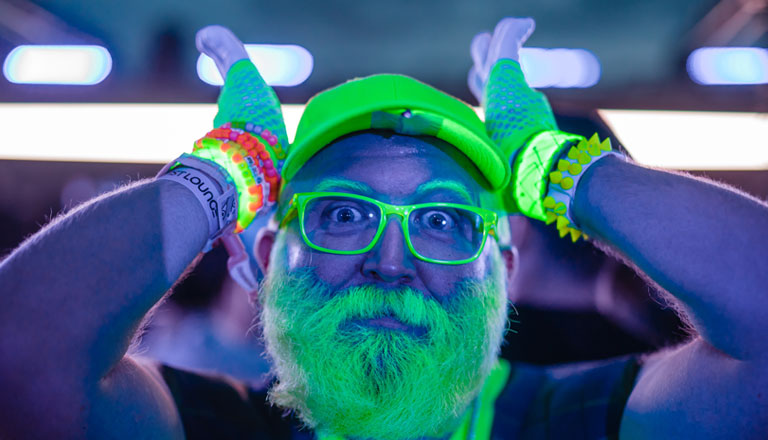 Wristbands
Wristband 101
Your RFID-enabled wristband will grant you entry through the gates of EDC Las Vegas. Here's what to do with it:
DO NOT PUT ON OR TIGHTEN YOUR WRISTBAND TILL FESTIVAL DAY (here's a how-to).
Register your wristband. This is the only way to receive customer service for wristband issues.
Keep your wristband somewhere safe until the festival date arrives. See guidelines below for more info.
Registration
Make sure to register your wristband. This will ensure you are properly prepared to enter the festival, as well as able to receive customer service, should you need it. If your wristband somehow gets damaged or lost, customer service can access your account and help you replace it (cost may apply).
Application
Ready to enter EDC? Here's the proper way to put on your wristband:
Handle your wristband carefully to ensure you don't pull it closed before you put it on.
Insert your RIGHT HAND through the band, and position it comfortably on your wrist.
Pull the tail through the plastic case until only ONE FINGER can fit between the band and your wrist.
Tug on the band slightly to ensure it is fastened and cannot slide off your wrist.
DO NOT CUT the loose end! Tuck it with the band.
Not sure if you have your wristband tight enough? Don't worry—security staff will check and help you if needed.
At the Festival
Scan your wristband at the scanner, and wait for security to wave you through.
If you have any trouble scanning your wristband, visit the ticket help booth near the gate.
Take care of your wristband. Remember, this is your ticket for the entire festival!
Do not remove your wristband until you plan to leave the festival property for the final time.
Guidelines
Keep your wristband in a safe place, and once it's on, be good to it! Wristbands will be void and confiscated if tampered with or removed.
DO NOT: Cut it, stretch it, modify it in any way, tighten it before it's time to put it on, or put it on anything other than your own right wrist.
Remember: Ins & outs are not allowed! Each wristband can be scanned into the event only once per day.
Lost Wristbands
For any issues regarding damaged, lost or stolen wristbands, please visit the off-site EDC Las Vegas Box Office, conveniently located near the Las Vegas Strip.
There is a $40 replacement fee for damaged, lost, or stolen wristbands.