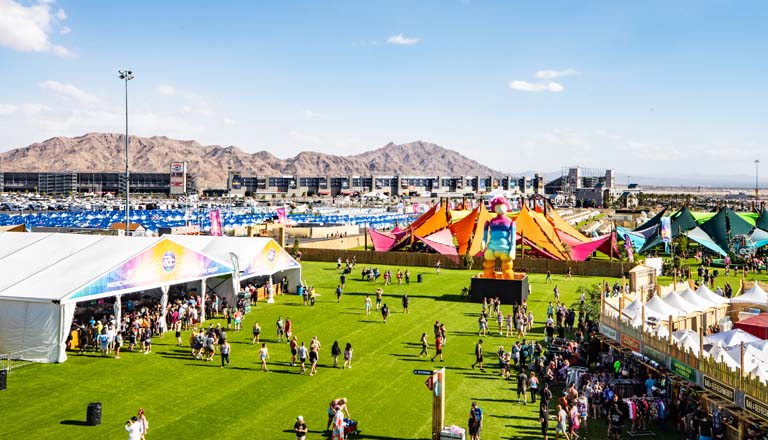 Camp EDC Accessibility Guide
For information on our accessibility services offered within the festival grounds of EDC Las Vegas, please visit our Event Accessibility Guide.
Camp EDC is a fully accessible campground experience, and we are dedicated to continually improving our efforts to ensure you have access to all the event amenities. We welcome and encourage all feedback and suggestions from our patrons. The following explains the services provided this year. For any accessibility-related questions please contact us. We will do our best to assist you and address your accessibility needs.
Wheelchair Accessibility
The campgrounds are fully navigable for people with mobility disabilities and are held on cement with a turf overlay. There are accessible pathways connected throughout the campground including parking, security, routes to ShiftPods & RVs, vendors and all other activity areas. We encourage all guests with mobility disabilities to utilize personal forms of transportation, including wheelchairs and scooters. If you need to recharge your motorized wheelchair, you may do so at the Accessibility Services kiosk. Patrons should bring all cords and accessories needed to charge their devices. Chargers must use a 110-volt, 20 amp circuit. We will not be providing wheelchair or scooter rentals.
ADA Parking
There will be limited ADA parking for guests with disabilities within the Turquoise Lot shift pod parking lot, located to the right of camping check-in. ADA parking is available on a first come, first serve basis. You will need a verified handicap placard, permit, or license plate to park in this portion of the lot. The person to whom the handicap credential is issued must be present in the vehicle, as a driver or passenger.
Upon entering the Turquoise Lot, please show the parking attendant your placard and they will direct you to ADA parking.
ADA ShiftPod Check-In & Security Check
There will be an ADA entry lane, located at both the ShiftPod check in and security checkpoints. Disabled guests may use these lanes to safely enter the campground. All guests, regardless of their disability, must go through the ShiftPod and security checkpoints and transport all of their items. After using the ADA entry, please visit the Accessibility Services kiosk, located within the Mesa to register for our accessible services.
Accessibility Services Kiosk
Please Note: You must stop here to get your ADA wristband credential.
There will be an Accessibility Services kiosk conveniently located within the Mesa, next to Info, Lost & Found & RV Services, right off of Ruby Road. At this location, you can:
Get your ADA wristband credential

Get your ADA questions answered

Learn about our accessibility services both within Camp EDC and inside EDC Las Vegas
Wristband Policies:
ADA wristbands are good for the whole weekend

DO NOT remove your wristband for the entire duration the event

One companion wristband will be issued for each disabled patron

If a disabled guest wants to switch their companion, please bring the old companion wristband to the Accessibility Services kiosk to be reissued
ADA Camping
Accessible camping locations are available for all tiers of camping in Camp EDC for those with accessibility needs. Campsites include close access to paths, entrances, exits, shuttles, accessible restrooms, and accessible showers.
Accessible camping spots are available on a first come, first serve basis. Registering helps us prepare for your group and plan our accessible camping areas. Limited spots may be available to unregistered guests onsite, but are not guaranteed. Our encouraged ADA camping registration deadline is April 16th, 2024 to ensure we account for enough ShiftPods and RV spaces allocated in ADA camping areas for all of our ADA campers in need. Registering after this date does not guarantee you will have an allocated ShiftPod or RV space in ADA camping, but we will do our best to accommodate. To register for an ADA camping spot, please fill out our ADA Camping Registration Form.
You will need a verified handicap placard or license plate to camp in ADA camping. The person to whom the placard or plate is issued must be present in the vehicle, as a driver or passenger. As part of gaining access to accessible camping, identification will be checked to ensure legitimate use.
Service Animals
Service animals are permitted throughout the campgrounds. However, this does not include emotional support animals, therapy animals, or companion animals. Any animal whose task is to provide protection, emotional support, well-being, comfort, or companionship is not considered a service animal and will not be allowed into the campgrounds. Only legitimate service animals that are individually trained and under the proper care of their owners will be provided with the appropriate credentials and allowed within the event footprint. Due to large-scale animal service fraud, and for the protection of all festival patrons, service animals must be screened and registered by the ADA department immediately upon entry to the site.
The following guidelines must be followed:
All service animals must be screened and registered with the ADA department and given credentials before entering the event footprint

All service animals must remain by the handler's side at all times and must be harnessed, leashed, or tethered. If these devices interfere with the service animal's work or if the handler's disability prevents the use of these devices, the handler must maintain control of the animal through voice, signal, or other effective controls

Service animals must be housebroken and should use the service animal relief area

Anyone bringing an animal will be responsible for and liable for any damage or injury caused by the animal

All animals should have legally required vaccinations (which ADA staff may ask to see for verification)
Upon entering camping security you must let the guard know that they need to call ADA on the radio to come register your furry companion, whether entering through the ShiftPod or RV entrances. All service animals must be checked into ADA and given the proper credentials in order to be at the event.
We ask that you do not leave your animal in your car or at your campsite while you're inside the event as it is too hot for the animals during the day. We also ask that you do not leave your animal in your RV UNLESS there is consistent air conditioning for them. Vehicles without air conditioning may become too hot and unsafe for any animal.
Additional Services
ATMs & Concessions:

All ATMs and concessions are fully accessible and located throughout the Mesa. If assistance is required, please confer with an event staff member.

First Aid:

We have several First Aid locations throughout the campground, noted on the event maps and mobile app. Professional medical staff can help you with your medical needs at these locations.

Special Dietary Needs:

The event will have food vendors that provide gluten-free dietary options. For those with special dietary needs, please

contact us

for further assistance.