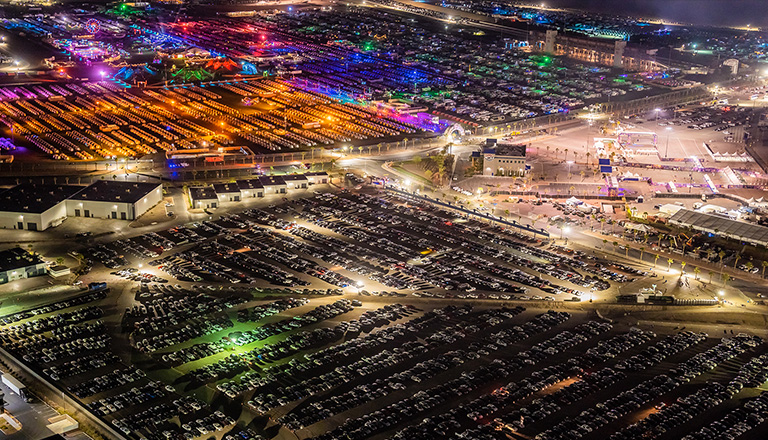 Parking & Drop-Offs
Premier Parking
Reduce your time and hassle with Premier Parking. You'll get in and out of the parking lot more easily, which means more time spent enjoying the festival.
Take I-15 North to Exit 58 at Apex. Turn RIGHT on N Las Vegas Blvd. Follow signs for Yellow Lot/Premier Parking. Turn RIGHT into the Yellow Lot at Entry 9. This is the only way to get to the Premier Parking Lot, so please do not try other routes. Only those with Premier Parking passes will be allowed on this route.
SOLD OUT! JOIN WAITLIST BELOW.
General Parking
General Parking is FREE. The largest parking lots with easiest access are located on the west and south sides (Brown and Green Lots), accessible via Las Vegas Blvd.
Take note of where you park your car. Check signs for the lot number. Check landmarks, pin your location, take a photo. Take note of the route you walk to the venue, so you will recognize the way back to your car after the show.
General Parking Lots Open at 3pm Each Day
ADA Parking
Take I-15 North to Exit 58 at Apex. Turn RIGHT on N Las Vegas Blvd. Follow signs for ADA Parking. Turn RIGHT into Entry 8.
ADA Parking Opens at 3pm Each Day
Parking Lot Restrictions
Vehicles must vacate the parking lot each day at the close of the festival. Any vehicles left in the lot after-hours will be towed at the vehicle owner's expense.
The following activities are strictly prohibited in the parking lot and areas surrounding the venue:
Tailgating
Sleeping in your vehicle
Buying/selling tickets
Vandalism, loitering or other illegal behavior
Drinking alcohol
Illegal drug use
Charter Buses
Private charter buses will NOT have access to the Speedway during EDC Las Vegas. We highly recommend using the Official EDC Shuttle Service to ensure your ride to the festival site.
Insomniac Holdings, LLC and its affiliates, together with their respective employees, officers, owners, shareholders, members, directors, representatives and agents (collectively, "Insomniac") are NOT RESPONSIBLE for and assume no liability arising from fire, theft, damage to or loss of any vehicle or any articles left therein. Parking at the event constitutes acknowledgement by the holder that he or she has read and agrees to the provisions of the foregoing contract. Vehicles (a) remaining in parking areas after close or (b) in parking areas other than as designated by Insomniac are, at Insomniac's sole discretion, subject to tow-away at owner's expense.