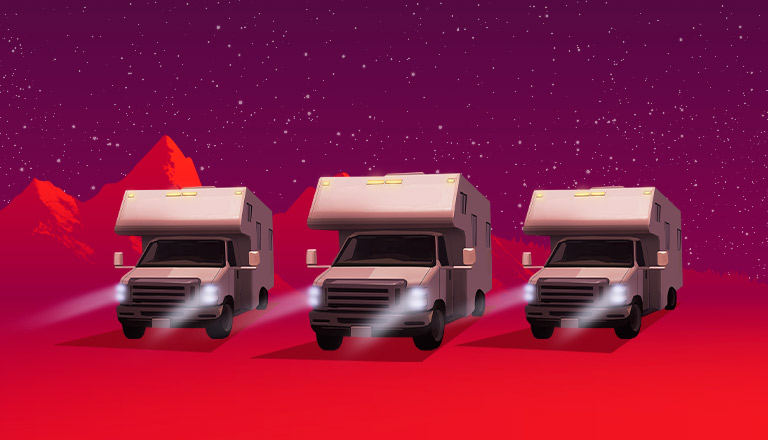 RV Camping
Drive your own RV on-site, where we offer a power hookup, RV water refills, and pump-outs for an extra charge. RVs must be standard size, ranging from 19′ to 45′. RV groups will be limited to the vehicle's specified sleeping capacity, up to a maximum of 8 people per RV site. Check out Camp EDC Entry for check-in information, and see Camp EDC Guidelines for our recommended packing list and RV camping policies.
RV Camping
View Features List

4 nights (Thurs–Mon)
15-foot x 50-foot parking space
Power options will be available. They must be ordered in advance at purchase checkout (see pricing below) and require a minimum 75-foot power cable with 30- or 50-amp connector.
Water and pump-out vouchers will be available for purchase on-site at the Camp EDC General Store (pricing TBA).
An additional vehicle may be added at checkout (see pricing below).
Access to porta-potties and free showers
Exclusive camper-only access to The Mesa
Exclusive in/out privileges to and from the festival (during festival hours) via dedicated campers-only festival entrance
Grill/cook your own food, right at your campsite! Camp EDC welcomes small, portable propane or butane grills/stoves (with small tanks, up to 4 lbs per group). Campfires and butane torches are NOT allowed.
Monthly Layaway Plan
Payments 2x
$131.60
Due 15th of the Month
Biweekly Layaway Plan
Payments 4x
$65.80
Due 1st and 15th of the Month
The payment structure above is based on the current ticket tier price and will be available until January 31, 2018. Layaway pricing includes taxes, fees, and $10 layaway charge. Shipping is included for US customers; all other layaway customers may pick up their tickets at Will Call. Any defaulted layaway plans are subject to a non-refundable $49.90 fee.
RV Add-Ons
30-Amp RV Power
$499
110-Volt. Includes all taxes & fees.
50-Amp RV Power
$699
220-Volt. Includes all taxes & fees.
Vehicle Add-On
$100
Per vehicle. Includes all taxes & fees.