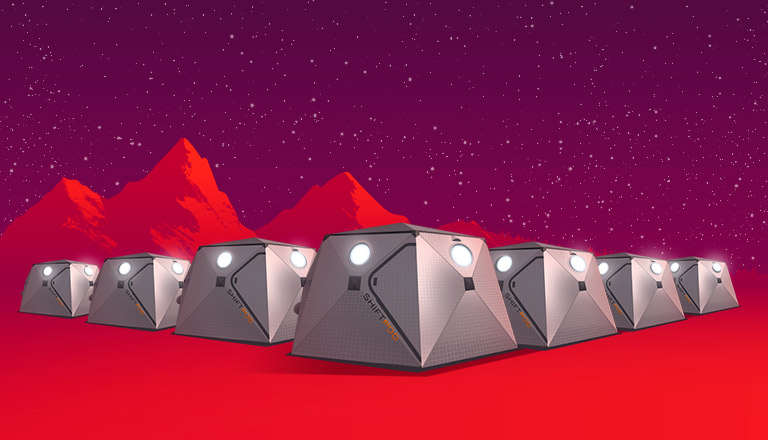 Moon Glow Tent Camping
Meet the ShiftPod2
Constructed with weather-resistant, multilayered, ultra-reflective fabric to help protect against the elements, the ShiftPod2 is a 12.5′ x 12.5′ x 6'10" advanced shelter system that has been a staple of campers and festivalgoers all over the world. At Camp EDC, each ShiftPod2 will be air-conditioned and set up on a cushy artificial grass floor for added comfort.
Moon Glow Camping
Moon Glow Camping comes with pre-setup, air-conditioned ShiftPod2 tents for up to 4 people. All you need are your bedding, personal items, and two travel locks for your ShiftPod2. Check out Camp EDC Entry for check-in information, and see Camp EDC Guidelines for our recommended packing list and tent camping policies.
View Features List

4 nights (Thurs–Mon)
ShiftPod2 advanced shelter system, fully enclosed for dust control and designed for heat reflection
Adjustable air conditioner
1 vehicle pass included (additional passes available for purchase at checkout)
Interior string lights
Cushy artificial grass floor
4-port USB strip
2 lockable zippered tent doors (bring 2 travel-size locks)
5 zippered tent window flaps
Car parking within walking distance
Porta-potties and free shower facilities provided
Exclusive camper-only access to the Mesa
Exclusive in/out privileges to and from the festival (during festival hours) via dedicated campers-only festival entrance
Grill/cook your own food, right at your campsite! Camp EDC welcomes small, portable propane or butane grills/stoves (with small tanks, up to 4 lbs per group). Campfires and butane torches are NOT allowed.

NOTE: Upon check-in, one person from each EDC tent camping group must present a credit card with a matching valid photo ID. A temporary $250 hold will be placed on the credit card until the tent and equipment are inspected upon checkout. You are responsible for any and all damages to the tent and equipment while in your possession and any repair costs and/or excessive cleaning costs incurred as a result of your use of the tent and equipment.
Monthly Layaway Plan
Payments 2x
$479.60
Due 15th of the Month
Biweekly Layaway Plan
Payments 4x
$239.80
Due 1st and 15th of the Month
The payment structure above is based on the current ticket tier price and will be available until January 31, 2018. Layaway pricing includes taxes, fees, and $10 layaway charge. Shipping is included for US customers; all other layaway customers may pick up their tickets at Will Call. Any defaulted layaway plans are subject to a non-refundable $49.90 fee.
Split Payments
Gather your crew, reserve your campsite, and make the payment process easy for everyone! Split the cost any way you want between group members. Each member signs up for just their share, and the Split Payments system does the rest of the work for you!
How It Works
Assign one person in your group as Camp Leader. They will sign up your group online.
The Camp Leader will select how to divide the total cost among the members.
Each member will receive an email inviting them to join the group.
Once your group is complete, your card will be charged only when the payment deadlines hit, or the Camp Leader manually triggers a payment.
You don't have to worry about being charged for a group that doesn't come together. You can even withdraw from the group once you've signed up, so long as no payments have yet been made. Just be careful, because you might upset your friends if you keep the group from its goal!
You pay only your fair share of the purchase, and that includes when the group grows. If more friends join your purchase after you do, the system assures your contribution will be in correct proportion to the size of the group, even if you've already made a payment. If you're the Camp Leader and pay the entire first payment yourself to lock down the booking, you'll get a refund after all payments are made for your overpayment, relative to your fair share of the purchase.
Experience Hopper Split Payments
Bundle your festival tickets and Moon Glow tent reservation! When four friends purchase a package together, each person's total cost for their festival ticket + camping comes to just $699 (including all fees).
Note: All festival tickets and camping passes for the group will be shipped in one ticket box to the Camp Leader.
Tent Camping Only Split Payments
For groups who have already purchased their festival tickets, this option allows you to add Moon Glow Camping to your experience and divide the payments easily among friends.