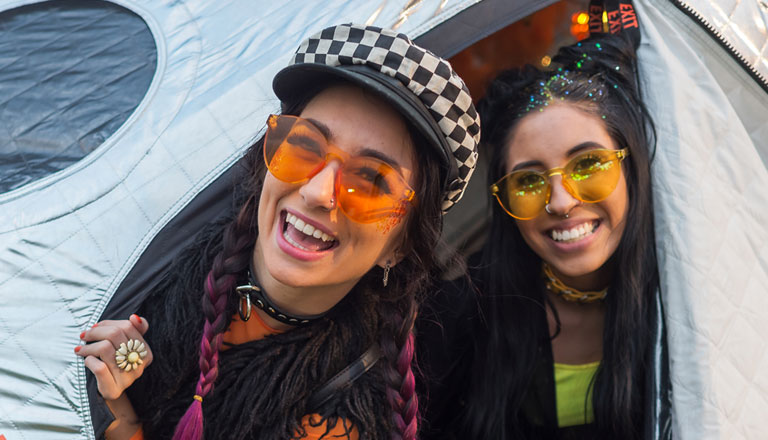 Moon Glow ShiftPod Camping
Camp EDC 2019
An elevated Camp EDC experience returns to Vegas! Campers can look forward to shorter wait times on arrival, a stronger power grid, more bathrooms, showers, improved site layout, wayfinding, new activities, and more.
Meet the ShiftPod2
Constructed with weather-resistant, multilayered, ultra-reflective fabric to help protect against the elements, the ShiftPod2 is a 12.5′ x 12.5′ x 6'10" advanced shelter system that has been a staple of campers and festivalgoers all over the world. At Camp EDC, each ShiftPod2 will be air-conditioned and set up on a cushy artificial grass floor for added comfort.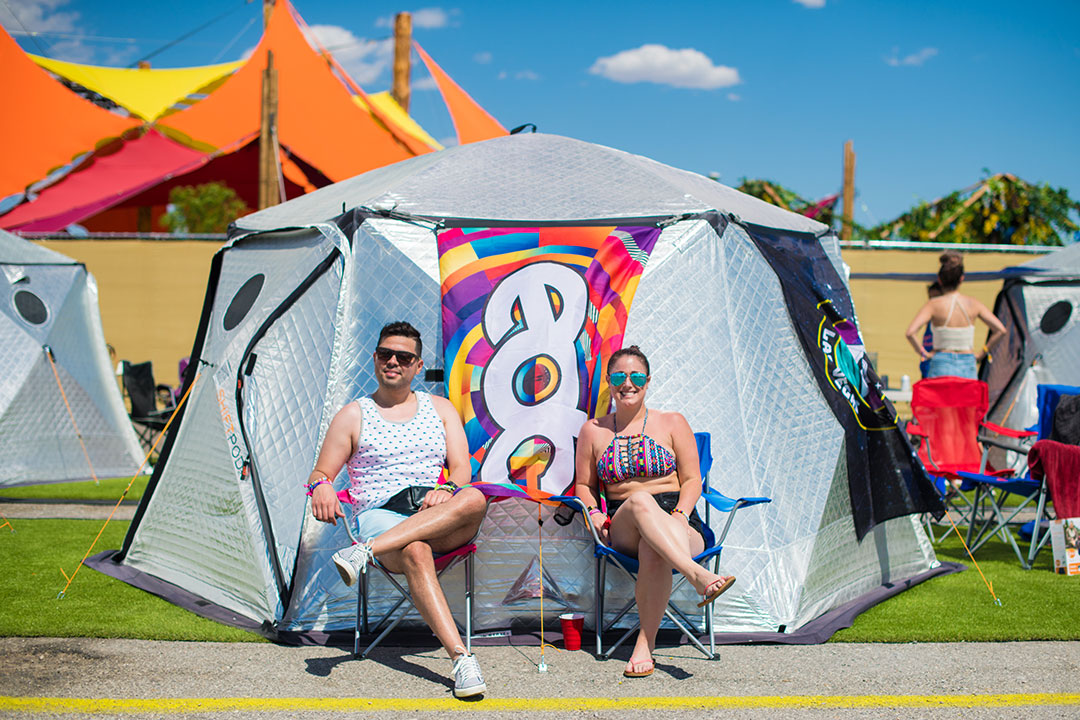 Moon Glow Features
Moon Glow Camping comes with pre-setup, air-conditioned ShiftPod2 tents for up to 4 people. All you need are your bedding, personal items, and two travel locks for your ShiftPod2. Check out Camp EDC Entry for check-in information, and see Camp EDC Guidelines for our recommended packing list and tent camping policies.
View Features List

4 nights (Thurs–Mon)
ShiftPod2 advanced shelter system, fully enclosed for dust control and designed for heat reflection
Adjustable air conditioner
1 vehicle pass included (additional passes available for purchase at checkout)
Interior string lights
Cushy artificial grass floor
Power strip
2 lockable zippered tent doors (bring 2 travel-size locks)
5 zippered tent window flaps
Car parking within walking distance
Toilets and free shower facilities provided
Exclusive camper-only access to the Mesa
Exclusive in/out privileges to and from the festival (during festival hours) via dedicated campers-only festival entrance
Grill/cook your own food, right at your campsite! Camp EDC welcomes small, portable propane grills/stoves (with small tanks, up to 4 lbs per group). Campfires and butane torches are NOT allowed.
Moon Glow Passes
CAMPING PASSES DO NOT INCLUDE FESTIVAL PASSES. TICKETS MUST BE PURCHASED SEPARATELY.
Tier 1
$999
+ Fees & Taxes
Sold Out
NOTE: A $250 damage deposit is required for each ShiftPod booked. One person from each ShiftPod camping group must provide a credit card, upon which a temporary hold will be placed until the ShiftPod and equipment are inspected upon checkout. You are responsible for any and all damages to the ShiftPod and equipment while in your possession and any repair costs and/or excessive cleaning costs incurred as a result of your use of the ShiftPod and equipment.
Additional Parking Pass
Each Moon Glow camping pass includes one vehicle pass. An Additional Parking Pass allows for members of your group who are arriving separately.
Only one Additional Parking Pass will be allowed per campsite.
Each Moon Glow campsite is allowed a maximum of four (4) people, including guests using an Additional Parking Pass.
Each Additional Parking Pass is good for one (1) vehicle for the entire weekend.
Additional Parking will be open during normal camping check-in hours.
Cars entering the Additional Parking lot may not have more passengers than the vehicle's legal capacity. No vehicles over a capacity of eight are allowed.
All passengers must have a valid wristband.
No vehicle movement will be permitted once parked; vehicles that leave the parking lot after being scanned will not be allowed re-entry to the parking lot. Campers will be allowed in/out privileges to their parked vehicles during the weekend.
Gallery